Vento Infinito Knit Carbon 2 Movistar Team
Special Edition
Team Movistar edition performance road racing shoe engineered with advanced knitted uppers for enhanced breathability
SKU
Con_Vento-Infinito-Knit-Carbon-2-Movistar-Team_ VER2IKR1C
As low as
312.00€
Regular Price
390.00€
SHOE SIZING GUIDE
| | | | | | | | | | | | | | | | | | | | | | | | |
| --- | --- | --- | --- | --- | --- | --- | --- | --- | --- | --- | --- | --- | --- | --- | --- | --- | --- | --- | --- | --- | --- | --- | --- |
| LENGTH (mm) | 230 | 237 | 240 | 243.5 | 247 | 250 | 253.5 | 257 | 260 | 263.5 | 267 | 270 | 273.5 | 277 | 280 | 283.5 | 287 | 290 | 293.5 | 297 | 300 | 303.5 | 310 |
| US | 4 ¼ | 5 ¼ | 5 ½ | 6 | 6 ¼ | 6 ¾ | 7 | 7 ½ | 8 | 8 ¼ | 8 ¾ | 9 | 9 ½ | 9 ¾ | 10 ¼ | 10 ¾ | 11 | 11 ½ | 11 ¾ | 12 ¼ | 12 ½ | 13 | 13 ¾ |
| EU | 36 | 37 | 37.5 | 38 | 38.5 | 39 | 39.5 | 40 | 40.5 | 41 | 41.5 | 42 | 42.5 | 43 | 43.5 | 44 | 44.5 | 45 | 45.5 | 46 | 46.5 | 47 | 48 |
| UK | 3 ¼ | 4 ¼ | 4 ½ | 5 | 5 ¼ | 5 ¾ | 6 | 6 ½ | 7 | 7 ¼ | 7 ¾ | 8 | 8 ½ | 8 ¾ | 9 ¼ | 9 ¾ | 10 | 10 ½ | 10 ¾ | 11 ¼ | 11 ½ | 12 | 12 ¾ |
| | | | |
| --- | --- | --- | --- |
| 230 | 4 ¼ | 36 | 3 ¼ |
| 237 | 5 ¼ | 37 | 4 ¼ |
| 240 | 5 ½ | 37.5 | 4 ½ |
| 243.5 | 6 | 38 | 5 |
| 247 | 6 ¼ | 38.5 | 5 ¼ |
| 250 | 6 ¾ | 39 | 5 ¾ |
| 253.5 | 7 | 39.5 | 6 |
| 257 | 7 ½ | 40 | 6 ½ |
| 260 | 8 | 40.5 | 7 |
| 263.5 | 8 ¼ | 41 | 7 ¼ |
| 267 | 8 ¾ | 41.5 | 7 ¾ |
| 270 | 9 | 42 | 8 |
| 273.5 | 9 ½ | 42.5 | 8 ½ |
| 277 | 9 ¾ | 43 | 8 ¾ |
| 280 | 10 ¼ | 43.5 | 9 ¼ |
| 283.5 | 10 ¾ | 44 | 9 ¾ |
| 287 | 11 | 44.5 | 10 |
| 290 | 11 ½ | 45 | 10 ½ |
| 293.5 | 11 ¾ | 45.5 | 10 ¾ |
| 297 | 12 ¼ | 46 | 11 ¼ |
| 300 | 12 ½ | 46.5 | 11 ½ |
| 303.5 | 13 | 47 | 12 |
| 310 | 13 ¾ | 48 | 12 ¾ |
PRINT OUR SHOE SIZING GUIDE
Delivery and Returns
Europe, US & Canada: 1-3 working days
Rest of the World: 2-4 working days
See Shipping/Returns section.
Vento Infinito Knit Carbon 2 Movistar Team
As low as
312.00€
Regular Price
390.00€
Team Movistar edition performance road racing shoe engineered with advanced knitted uppers for enhanced breathability.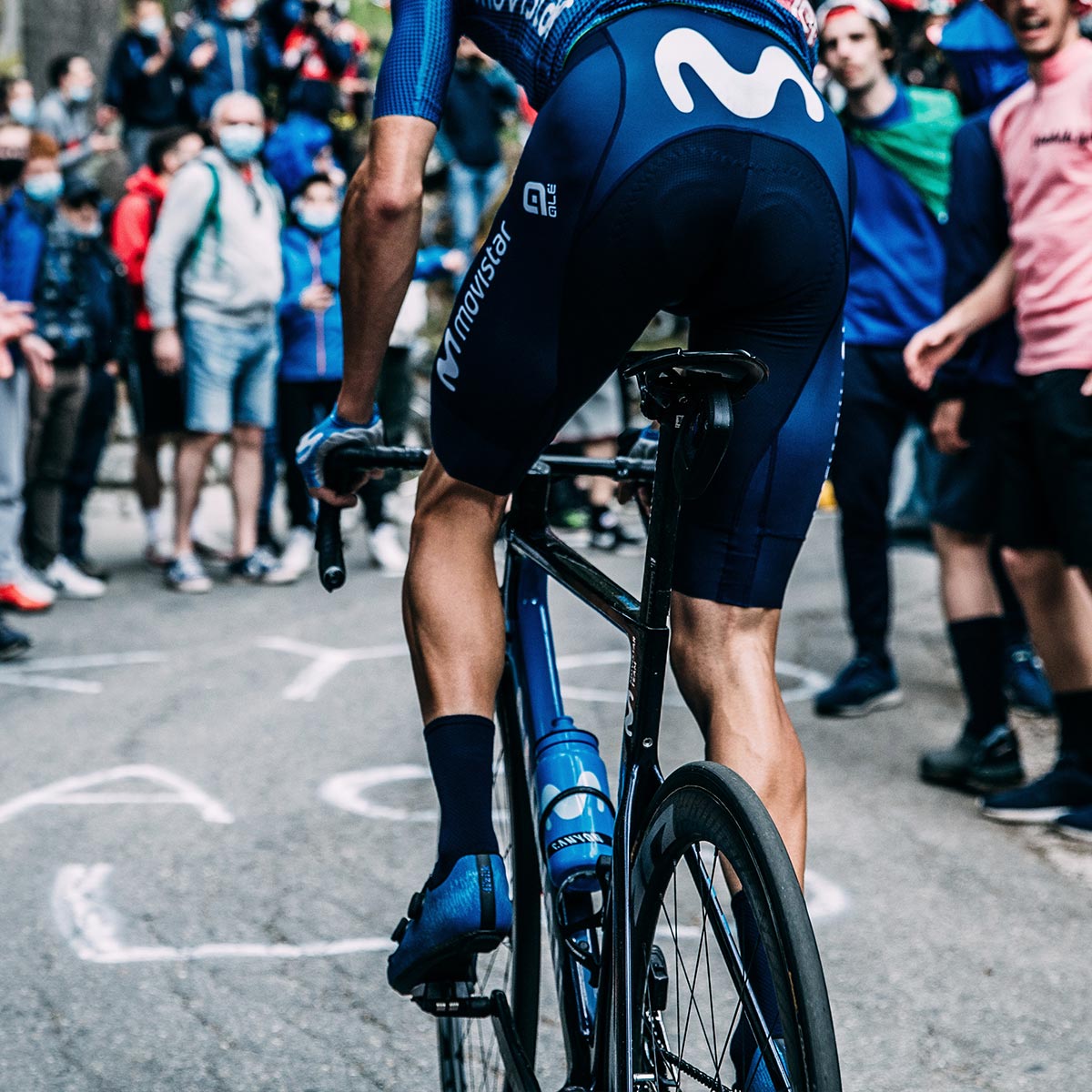 REFINED KNITTED UPPER
Race-tested and peloton-proven by the riders of Team Movistar, our limited-edition Infinito Knit features a refined knitted construction in bold Movistar blue, seamlessly integrating superior ventilation throughout the upper and further streamlined by stripping away more weight than ever before. An incredibly breathable mesh base blends with targeted areas of heat-fused TPU yarn for support that guarantees effective power transfer without compromising the support and pedaling efficiency of a traditionally built cycling shoe.
VOLUME CONTROL SYSTEM
The shape and volume of the forefoot area can vary widely between riders, which is why this shoe offers our Volume Control system that allows for differentiated fit adjustments, featuring the latest Li2 BOA® Fit System platform with a smaller dial diameter and lower, more aerodynamic profile. Through this combination, cyclists can finely tune the fit to their unique foot shape, for maximum performance and comfort with a dedicated piece of the shoe's upper wrapping around the plantar arch for a perfect fit and improved support of the plantar fascia.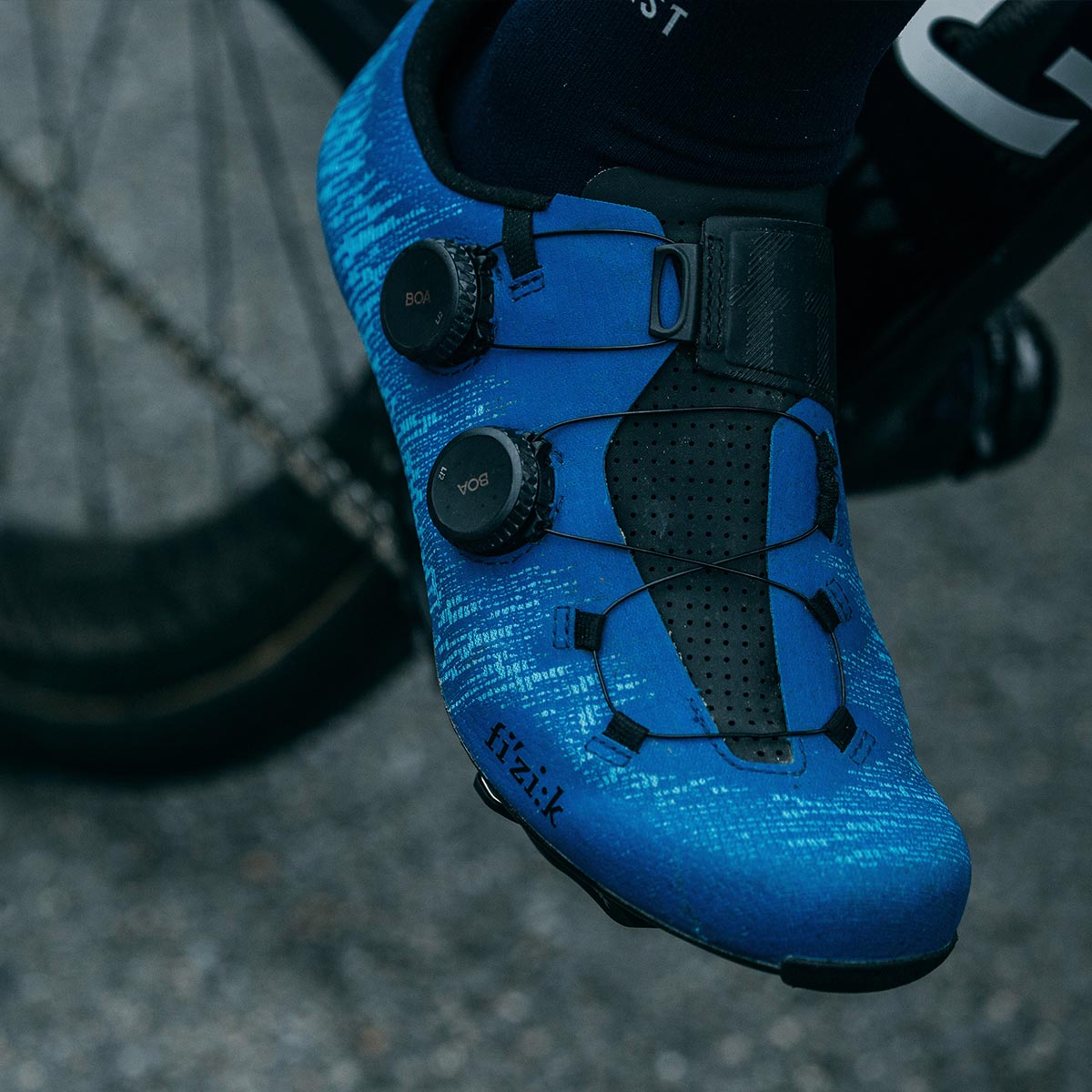 SUPPORT AND COMFORT
The volume of the forefoot area can be controlled via the Infinito, a signature fit-configuration feature. The Infinito balances tension and further eliminates pressure hot spots by using BOA® textile lace guides. This fit system acts across a larger area of the shoe's upper, pulling the eyelets inwards consistently from all directions for a more supportive and comfortable fit.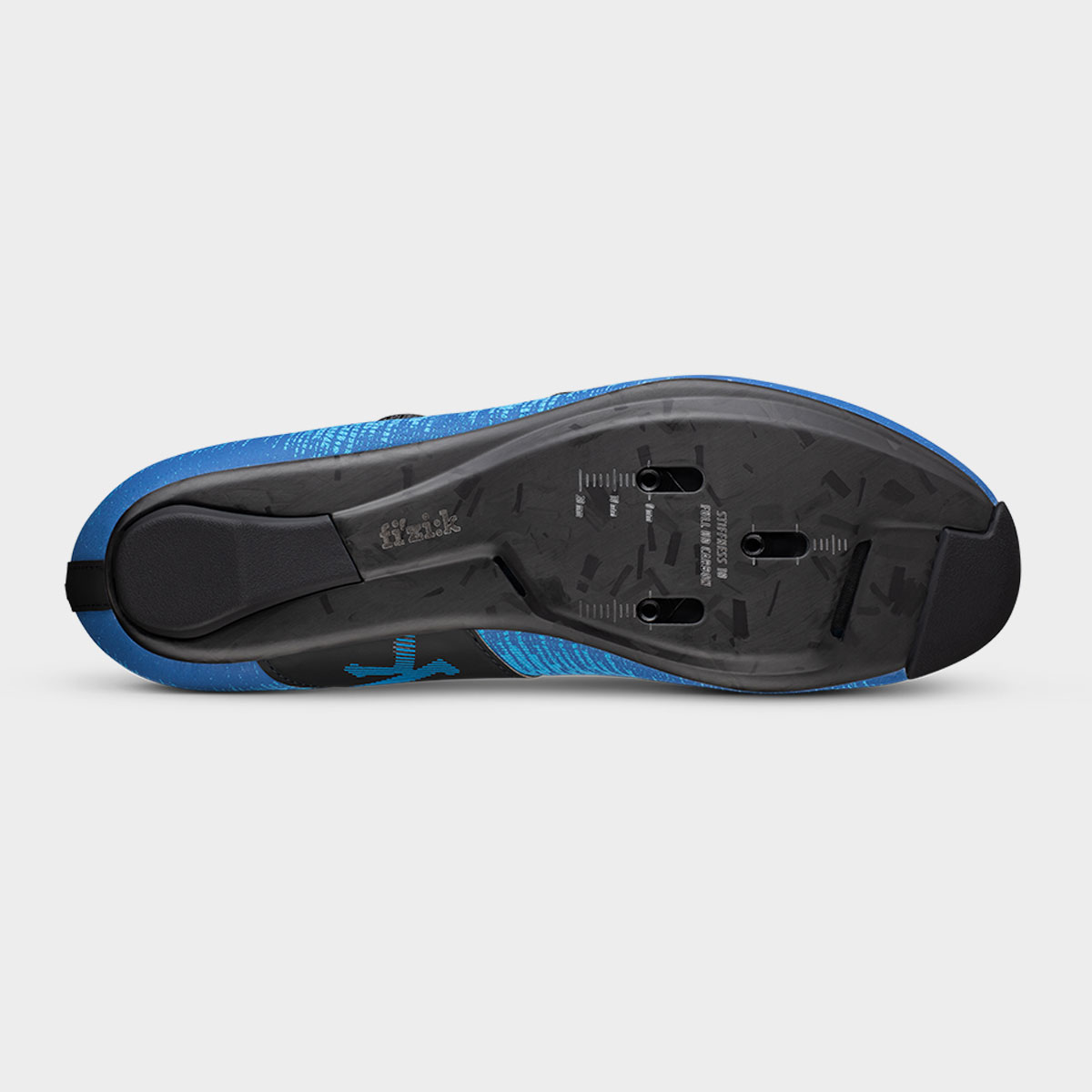 R2 CARBON OUTSOLE
The updated Infinito also features an entirely new outsole with an engineered carbon fibre layup that saves weight and delivers increased stiffness. With a stiffness index rating of 10, this outsole is the stiffest in the fizik range. A wide vent inlet and deep internal channelling provide a cooling airflow, aiding in temperature regulation. The cleat positioning is set slightly further back compared to traditional settings to optimize pedalling efficiency and reduce knee compression, especially well-suited to very aggressive, forward aero positions.
SPECIFICATIONS
Knitted upper
Li2 Dual Zone BOA® Fit System configuration
R2 outsole – full carbon unidirectional, stiffness index 10
Weight: 227g (size 42 - 1/2 pair)
Sizes: 36-48 (37 to 47 also in half sizes)
Vento: performance racing series designed in collaboration with professional cyclists
Intended use: road racing
ROAD — Designed and engineered to perform on paved roads, from the smoothest tarmac to the most demanding pave